The Former Residence of Shiing-Shen Chern — Ningyuan
Ningyuan, the former residence of Professor Shiing-Shen Chern, is located in the east of Nankai University. It was built for welcoming Professor Chern's returning to China in the 1980s. In 1985, Professor Chern founded CIM after coming back to Nankai and since then, every year he would live in Ningyuan for a while with his wife Shih-Ning Cheng. Professor Chern has settled here since the year of 2000 and spent the last years of his life in this house. In 2011, Ningyuan was redecorated and kept as The Former Residence of Shiing-Shen Chern. Professor Zeng Fan, as Professor Chern's close friend, also a famous calligrapher and painter, wrote an inscription for this memorial building.
Ningyuan is a two-story building with outer walls painted in light green and geometric roofs arranged in different planes, which all make it a combination of both simplicity, elegance and creativity. Inside there are seven exhibition rooms including the reception room, the bedroom and the workroom. On display are honors and awards Professor Chern received in his life as well as photos and paintings of him. Many objects that Professor Chern was using in everyday life, including blackboard, books, television and typewriter, are also well-kept in this building. Introductions of these exhibits are fully-illustrated on display boards with both texts and pictures.
To visit Ningyuan, please make reservation by calling 022-23508228 during working time (Monday - Friday, 8:00 - 11:30, 14:00 - 16:30).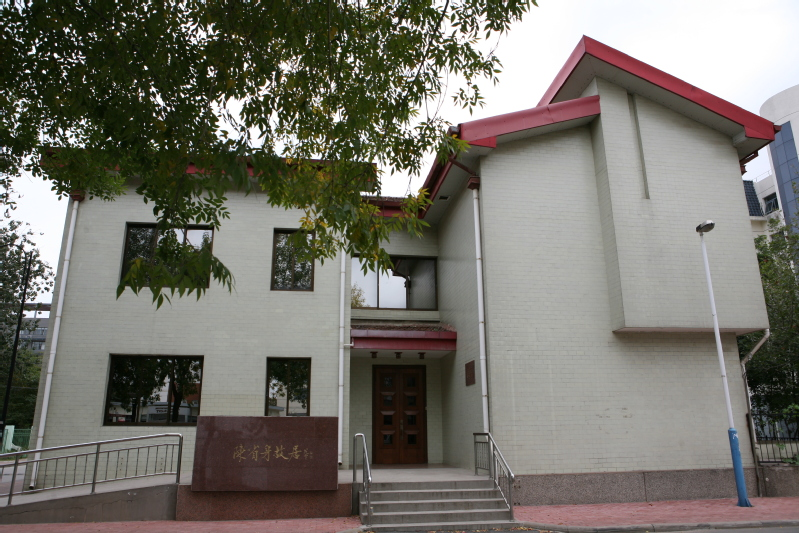 The Memorial Tombstone of Shiing-Shen Chern
The Shiing-Shen Chern Memorial Tombstone stands in front of the Shiing-Shen Building, right beside the Weijin River. Underneath there buries part of the cremains of Prof. Shiing-Shen Chern and his wife Shih-Ning Cheng. The tombstone was designed by Prof. Chern's grandson Albert Chu who is an architect, and officially set up on June 18, 2011.
The tombstone is made of a whole block of white marble and fronted with black granite. The three sides of it demonstrate three space forms in two-dimensional geometry: flat Euclidean space, elliptic space of positive curvature and hyperbolic space of negative curvature. Like a blackboard, the black granite is engraved with Prof. Chern's handwriting - the Gauss-Bonnet-Chern formula, which is one of the greatest achievements Prof. Chern made in his life, also the research work Prof. Chern was most proud of. At the bottom of the granite are dates of birth and death of the couple. With 23 stools in front of the tombstone, the whole memorial seems to be an open-air classroom.